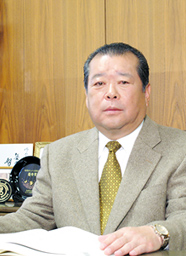 The smell of yakisoba sauce brings back memories of my childhood at local festivals. And I remember waiting excitedly for the day of the festival to come. These happy childhood memories warm my heart and give me a feeling of calmness. I think many Japanese people have similar memories and feelings like mine.
These days children going shopping with their parents on the weekend is the same kind of fun children had going to festivals in the old days. Having a meal at a foodcourt has to be safe and delicious to make them feel happy.
Peacock aims to preserve the traditional flavour of Japanese food in our fastfood products.
"New way of business for old-style food"
My next challenge is to find new ways to sell traditional food like takoyaki and okonomiyaki.  
Coming together at the dinner table and sharing the good things and the bad things about our day with family is an important part of our lives. Peacock's delicious food warms people's hearts and brings a smile to people's faces.
Peacock always places great importance on family and happy times.
For Peacock there is nothing more important then family.